In my blog post about Hair Rehab, I mentioned that using a good clarifying shampoo is one of the first steps to "getting clean" and ditching your bad hair care habits. So, what exactly is clarifying shampoo, and how does it help to rehabilitate your hair? Let's dive in.
A Deep Cleanser for your Hair
Clarifying shampoo is similar to regular shampoo, but with the cleansing power pumped all the way up for a really "deep" clean. Normal shampoos work to wash away excess oil and dirt, but a proper clarifying formula will do so much more.
Why should you Use a Clarifying Shampoo?
Clarifying shampoos clean away the stubborn residue that builds up over weeks, months and years. This build up comes from products like hairspray, mousse, gel, wax, dry shampoo, even other regular shampoos and conditioners. And it's not just hair products that cause build up. The chlorine from pool water and minerals from tap water also leave deposits on your hair and scalp over time.
All that residue will soon leave you with droopy, dull and lacklustre hair, which will really put a crimp in your signature look! Using a clarifying shampoo will send the gunk down the drain, and put life and vitality back in your mane.
How Often should you Clarify?
Your need for clarifying shampoo will depend on your hair type and hair care routine. And remember, the longer you've been piling on the styling products, the longer it will take to start seeing results.
The deep cleansing, oil-fighting power of clarifying products can be pretty drying; so you have especially dry or curly hair, it's best that you only use a clarifying treatment once every couple of months.
For all other hair types, clarifying once a week is enough to prevent build up from becoming a problem and weighing your hair down.
While the amount you use and how often you use it will vary from one head of hair to the next, clarifying shampoo is for everyone! It's a powerful ally when it comes to turning your personal "hair wars" into a hair care love story.
Natural Clarifying Shampoos: Ren's Top Picks
Now that I've dished the dirt on this dandy deep cleaner, I have to say that not all clarifying shampoos are created equal. There are many brands filling up the supermarket shelves, so how can you be sure you're choosing the right one?
If you want an effective product that will do its job without leaving your hair dry and your scalp tight, the more natural route is the one you should take. Always read your ingredient labels; look for SLS-free formulas, and opt for the products with fewer harsh allergens and chemicals.
As somebody who has "been there, done that" all the way through her own Hair Rehab journey, I'd like to share a couple of my top recommendations with you.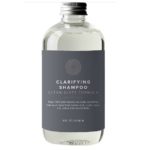 HAIRPRINT Clarifying Shampoo – Clean-Slate Formula: This brand carries the trusted MADE SAFE certification, so you can be sure there are no ingredients that could harm your hair, your health or your environment.
This is a really yummy plant-based formula from HAIRPRINT, with olive leaf and willow bark to exfoliate the scalp, green coffee to stimulate the circulation, and a coconut-radish ferment to add moisture.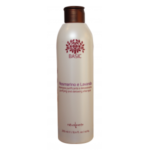 Naturalmente Rosemary & Lavender Shampoo: The Naturalmente range is made using gorgeous blends of flowers, seeds, oils, fruits, spices and resins, sourced in Italy, its country of origin. This baby is a purifying shampoo that's ideal for thick and coarse hair types. Great for cleaning away grease, oil and product build up.
All Naturalmente products are certified by Qualità Reale, an independent, respected certification body that ensures product integrity.
Just like you give your skin the occasional deep clean with a facial scrub or an exfoliating mask, you should be doing the same for your hair with a clarifying shampoo. The results will shine through as your hair regains its former bounce and lightness. Happy cleansing, you beauties!